The
LG Nexus 4
has to be one of the most-leaked phones in recent memory – the latest premature release comes from the official YouTube channel of Sweden's carrier Three, who posted a quick hands-on with the upcoming Nexus (which was supposed to be announced today, maybe 3 Sweden didn't get the memo about the cancellation).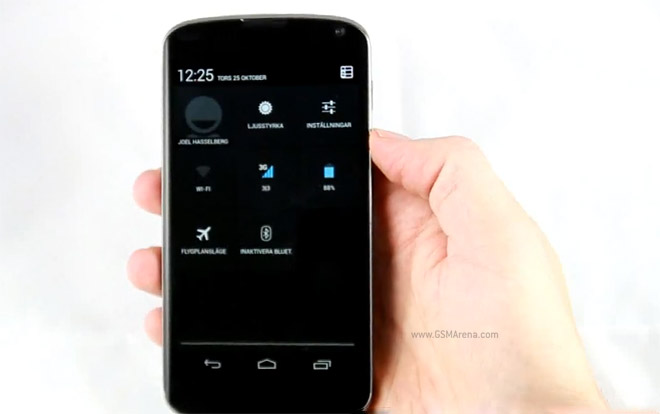 The quick UI demo doesn't really show much, but there are new notification area toggles which look quite interesting. They are not placed above the notifications as usual, but are instead a separate screen you can access by tapping a button.
The top left icon is for the user, which might mean we're finally getting multi-user support (the makings of which are already in Android) but it could just be a link to your social networking account (like WP7′s Me tile).
Anyway, the homescreen and app drawer now hold five shortcuts per row – an expected change, considering that the LG Nexus 4 has a wider screen than its predecessor (15:9 vs. 16:9).