Roughly a month after its
Windows RT sibling
made it to the market, Microsoft announced pricing and availability of its Surface Pro slate. The tablet will be available in January, priced at $899 for a model with 64GB of memory, and $999 for a version with 128GB built-in.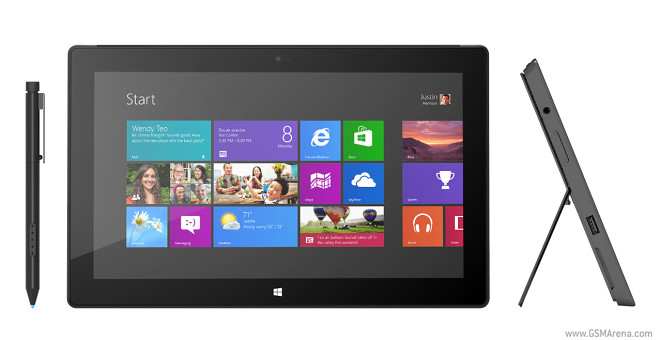 The Microsoft Surface Pro will not come bundled with a Touch or Type cover. You will have to spend some extra cash to have one of the handy covers at your service. The tablet will however, come with a Surface pen with Palm Block technology in the box.
Despite looking exactly like the Surface RT, the Pro version will offer significantly beefier hardware than its ARM relative. The upcoming slate will feature Intel's latest generation Core i5 CPU, Mini DisplayPort, full-size USB 3.0, as well as a copy of Windows 8 Pro, which is able to run desktop software.
The display of the Surface Pro is much sweeter too. It keeps the 10.6″ diagonal and 16:9 ratio, but boasts full HD (1920×1080 pixels) resolution. If 1080p doesn't cut it for you, the Mini DisplayPort supports external unit with a resolution up to 2560×1440 pixels.
Overall, despite being far from cheap, the Microsoft Surface Pro seems to offer a decent amount of hardware for the money.
http://blog.gsmarena.com/microsoft-surface-pro-will-hit-the-shelves-in-january-starting-from-899/