Mr. Nexus 4, you're early. Carphone Warehouse just couldn't wait until next week and decided to put the next Google purebred droid on pre-order right now, complete with specs, price and delivery date.
Here come the specs - the LG Nexus 4 has a 4.7" LCD screen with 768 x 1280 and a Snapdragon S4 Pro chipset with quad-core processor at 1.5GHz and 2GB of RAM. In other words, it's based on the Optimus G, just as expected.
The camera is listed as "8+MP", though it's really a 8MP camera and not 13MP. It shoots 1080p@30fps video, though you might want to be careful with that as you only get 8GB of non-expandable storage. Yep, unfortunately the rumors were true. This doesn't mean there won't be a 16GB version later on, so keep your fingers crossed.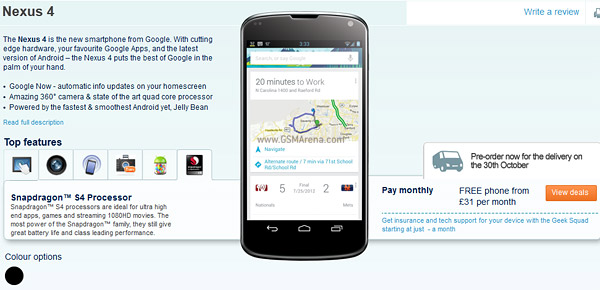 On the connectivity side, the LG Nexus 4 has quad-band 2G and tri-band 3G (no LTE in sight), Wi-Fi, Bluetooth and NFC.
There's the question of the OS - the specs page doesn't seem to be finalized and lists it as both 4.1 and 4.2, but invariably calls it 'Jelly Bean'. This would mean that the 4.2 update isn't major and is not Key Lime Pie (as you might remember 2.0 and 2.1 were both Eclair, while 3.0, 3.1 and 3.2 were all Honeycomb).
The phone measures 133.9 x 68.7 x 9.1mm, but its weight is yet to be confirmed. The only color available is Black.
Carphone Warehouse lists deals from Vodafone and O2. You can have the LG Nexus 4 for free on a £31/month 2-year contract (slightly pricier than a Galaxy S III, which currently can be had for free with a £28/month contract). The phones will be delivered on October 30.